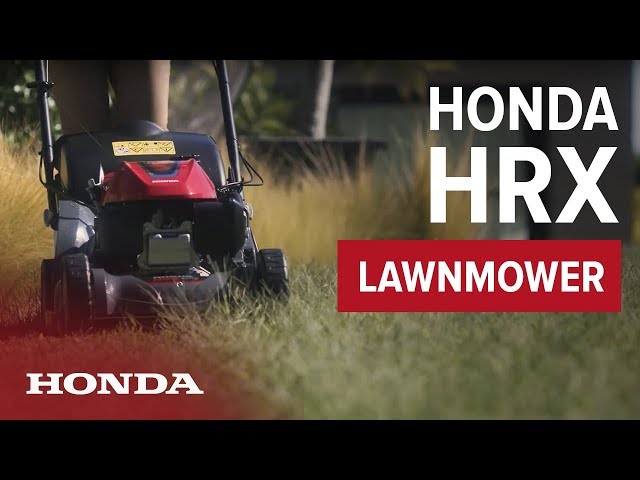 Honda Core Petrol Lawnmowers
The HRX range has been refined even further. Now with the new GCV170 and GCV200 4-stroke engines, you'll experience smooth controllable power through a Variable Select Drive, or a Hydro-static Drive transmission; making cutting a medium to large sized lawn much easier on you.
GO GREENER TECHNOLOGY
Technology you can enjoy, with peace of mind
The Versamow™ variable mulching system works with specially designed offset MicroCut twin-blades. They work together, efficiently cutting the grass into ultra-fine particles; recycling them back into your lawn to create a natural fertiliser. You'll notice the difference in a matter of weeks. 
Most of our models come with Roto-Stop allowing you to stop the blades but leaving the engine running while you empty the grass bag or move across driveways.
Our blades are designed to twist, not break, should you hit a solid obstacle while mowing. This Honda innovation not only increases safety, it also prevents further damage to the engine and the cutter deck.
Honda Petrol Lawnmowers - Core Lawnmower, easy start
These new, advanced 4-stroke engines have an enhanced combustion process that not only improves fuel efficiency; but ensures easy starting, even after winter storage. There's also the option of an electric start, on the HRX 537 HZE model, to make starting even easier.
Durable cutter decks
Our Polystrong and Xenoy cutter decks are made from high-tech polymer materials that are lightweight, strong and durable. They are also UV and corrosion resistant, helping it to stay in great condition.
Steady away
The HRX series is available with three different transmission options. Whether it's our fixed single speed, the new Select Drive or Hydrostatic Drive; they all offer the highest level of smoothness and control.
Variable Mulching
Our Versamow™ system offers seven settings from full collection to full mulching, allowing precise control over the amount of grass clippings you think is best for fertilising your lawn. (This feature is not available on HRX 476 OJEX.)
Safety First
The Roto-Stop® system allows you to stop the blades quickly and safely, without having to turn the engine off. Ideal when you need to empty the grass bag, clear debris, or traverse paths and driveways. (This feature is not available on the HRX 476 VKE and HRX 476 OJEX.)
Cutting height adjustment
With the HRX you can easily adjust the cutting height of your grass. Simply pressing the button at the side allows you to have precise control of lowering or raising the deck evenly.
No Spills
Redesigned to make it much easier to refuel your HRX mower, the petrol tank filler cap is more than twice as large as the previous models.
Hands on
The HRX is so easy to maintain. The air filter can be simply changed by hand and the spark plug is much more accessible thanks to the new engine design.
More Lawnmower features
The HRX 426 range is also available with the GCV160 engine.
They all have a super-tough, Polystrong deck with a push or single-speed option. A mulching kit can be used on certain models and you can also choose a mower that features Roto-stop®, or one with a rear roller. Contact your dealer for more details.