A 42cm wide durable Roto-stop™ petrol mower with rear roller. This lawnmower is light, powerful and offers easy drivability due to ball bearings fitted to the front and rear wheels.
Product Overview:
Self-propelled – The engine drives the mower forward, taking the effort out of lawncare.
Central height adjust – Choose one of seven cutting heights using a single lever
Polystrong® deck – Durable and rust-proof polypropylene deck allows us to design in extra strength while reducing the overall weight.
Rear roller – Give your lawn that classic stripe. A rear roller offers greater machine balance and control when cutting around the edge of your lawn, too.
Roto-stop® – When you release the handle, the engine continues but the blades stop – so you can leave the engine running to empty the grass bag or drive across gravel paths with complete safety and peace of mind.
Folding handle  -Quick and simple folding for easy storage and transporting.
160cc OHV 4-stroke engine – GCV160 Honda 4-stroke engine gives high power and torque with renowned durability
8″ wheels – New tread design and a softer compound material for rock-steady operation.
Email when stock available
HONDA HRX 426 QX LAWNMOWER
The Honda HRX 426 QX lawnmower features a powerful and reliable 5.5 hp Honda 4-stroke engine along with the peace of mind of Honda's unique Roto-stop safety feature, enabling you to stop the blades without the need to stop the engine.
Honda Lawnmowers with a rear roller give your lawn that classic striped effect. A rear roller offers greater machine balance and control when cutting around the edge of your lawn.
The cutting height can be altered with a single lever. It is a fast and simple matter to move the blades up or down to achieve an even cut at any height - you may want longer grass in a rough area, for example, and a shorter cut for the lawn.
The Polymer deck is a hard-wearing innovative material that allows Honda to design extra durability into their machines while reducing the overall weight at the same time.
Safety is a paramount concern in everything that Honda build. The Honda HRX 426 QX lawn mower is also fitted with a roto-stop clutch which allows the operator to empty the box whilst leaving the engine running and also allows you to drive the machine from A to B without the blade running. With the unique Roto-stop® feature (now available on most models), when you let go of the handle, the engine continues but the blades stop - so you can leave the engine running while you empty the grass bag.
Key Features
Rear Roller
The HRX 426 QX a rear roller give your lawn that classic striped effect. A rear roller offers greater machine balance and control when cutting around the edge of your lawn.
Polystrong® Deck
The cutter deck made from Polystrong®/ Xenoy®. It's harder and tougher than a rhinoceros, but a lot easier to handle. Specially developed by Honda for HRX lawn mowers, it is created as one complete and super-smooth unit, designed to improve the mower's collecting performance. It's so much lighter too, which makes the HRX easier to handle. This special cutter deck is light, resistant to UV rays, and will not rust. It also contributes to keeping the noise level low while in use and because the grass cuttings have less chance of sticking to it compared to steel or alloy, it's easy to keep clean.
Safety and Performance
Blade efficiency and strength are important, but safety levels need to be maintained too. If a blade breaks or becomes unbalanced it can be a danger. These blades are designed to twist, not break, if you're unlucky enough to hit a solid obstacle while mowing. This Honda innovation not only increases safety, it will also prevent further damage to the engine and the cutter deck.
A blade brake clutch
The Honda HRX 426 QX utilises Honda's Roto-stop® technology. It's a safety feature that allows you to disengage the blade without having to cut the engine. That means you don't have to stop and restart it every time you go over a gravel pathway or when it's time to empty the collection bag. Roto-stop® is operated via a hand control button positioned on the HRX handle.
The Perfect Height
For a greener lawn you have to get the cut spot on. You should only cut a blade of grass one third of its length for healthier growth. The adjustment is easy with the HRX 426 QX lawn mower. Simply take hold of the handle and press the release button. You can then lower or raise the deck evenly over all four wheels for an accurate cut. Once you've got the height absolutely right for the length of cut your lawn will start to look and feel much better, for longer. There's another benefit to this too – you won't be constantly stopping and emptying the bag by cutting more than you actually need to.
Free Flowing Air
All HRX mowers have high airflow collection bags and dust covers. Airflow is generated within the cutter deck by the rotating blades. Air is drawn into the cutter deck and directed through to the collection bag taking all the grass clippings with it. This is important for the collecting process, with the increased air pressure being directed through to the collecting bag at the rear, taking the grass cuttings with it.
Honda created a special material for our collection bags that's ultra-fine. It maximises the collecting process without affecting the airflow. An additional dust cover stops even the finest dust particles from getting through. You won't find a cleaner and more efficient method anywhere else.
A Stronger Hold
HRX mowers have a quick and easy-to-release handle height adjustment. Mowing for a long time with your hands and arms held too high or too low can be a pain in the neck. For better comfort, there's a simple hand adjustment that allows you to position the handles to suit your height. No tools needed – just set them to your height and away you go. The handles fold neatly down when not in use, and are attached to the cutter deck via an innovative Honda design. They will not flex while you're using them and they take up very little space in storage.
Low noise
Honda's R&D team have designed a patented low noise blade (-0.5dB(A)) compared to traditional blades. With a combination of engine and cutter deck design, its noise level is 30% under the current EU standard.
Technical Specifications
Engine/motor:
160cc Honda OHC
Power source:
Unleaded petrol
Starting method:
Recoil
Deck material:
Polystrong®
Cutting system:
Metal blade
Cutting width:
43cm
Cutting height:
19mm - 55mm
Blade-brake clutch:
RotoStop®
Collection bag:
Fabric/60-litres
Mulching function:
N/a
Rear roller:
Yes
Drive system:
Self-propelled
Weight:
38kg
Warranty:
7 year domestic
| | |
| --- | --- |
| Weight | 44 kg |
| Dimensions | 101 × 53 × 53 cm |
Unrivalled Warranty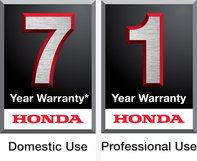 Honda's products are built better to last longer. That's why you are offered a rock-solid warranty for domestic and professional use on our core range products, covering both parts and labour.
The warranty also maintains the same value throughout the warranty period – meaning the last day of cover is exactly the same as the first.
*Subject to domestic use and following the service schedule
Want to see more?
See more from Honda's range of lawnmowers here.
Get more information from their brochure.