Honda EM5500cxs Generator
These professional generators produce a clean electricity output that can be used for a wide range of sensitive electrical applications, including construction, hospitality, emergency and home back up.
Out of stock
Email when stock available
HONDA EM5500CXS GENERATOR
Quality electricity supplied to keep industry working.
The Honda EM5500cxs generator is robust and reliable. They have the latest GX engines and they're quieter than ever. With Honda's very own voltage output technology you can trust them to run sensitive power tools safely for hours.
Honda D-AVR technology
Digital Automatic Voltage Regulator (D-AVR) has a significant advantage over the traditional AVR, giving a smoother and more efficient output. This new output technology has several application benefits over AVR, such as minimising flickering lights.
Made tough
Honda's EC generators are robust, dependable and require minimal maintenance. They are powered by their easy-starting, commercial grade, 4-Stroke GX engines and protected by a super-strong steel frame, ready to deal with the harsh conditions of a work site.
Always starts with ease
The recoil starter mechanism is light and smooth. For the ultimate convenience and effortless operation, selected models come with Electric Start.
Extended run-time
Most models in the range have a large fuel tank - adding run-time endurance to help keep you working for longer.
Comfort
Rubber shock absorbers, which are positioned either side of the engine at 45°, significantly reducing the engine vibration of an already quiet machine. An optional wheel kit is available to improve mobility.
Auto throttle
Auto throttle automatically reduces the engine speed when appliances are turned off or disconnected. Conversely, the engine returns to its rated speed when appliances are turned on or reconnected.
Building Trust
First of all, make sure it's a genuine Honda.
Just because it's red, doesn't mean it's a Honda. High standards come at a premium, so don't trust anyone who tells you they've got a product that can do the job just as well. These Specialist Open Frame generators are versatile and have 230V sockets for a variety of different power tools.
The power that works
It's good to know you can trust the output from these generators, which is produced through a Digital Automatic Voltage Regulator (D-AVR). It's a major improvement on traditional AVR and provides a much smoother, more efficient output for sensitive electronic equipment, delivering a stable wave of clean power (above left). It will put an end to flickering lights, which makes them ideal for emergency night work, too.
Ready For Work
Just pull the cord for instant power.
Practical sockets and controls make starting and running the generator quick and simple; particularly as the starter, choke, fuel tap, on-switch and plugs are all mounted on the same panel. This makes starting and operating the machine easy and convenient. And remember, our Oil-Alert™ Technology will automatically switch off the ignition if the oil drops below a safe level.
Smooth running
Honda has built a unique engine mount system into the durable steel frame. These rubber shock absorbers are positioned either side of the engine at 45˚ and significantly reduce the engine vibration of an already quiet machine. Nice and smoothly does it.
Fill Up And Forget
These generators keep on working, so you can too. They have running times equal to a day's work.
They have an easy fill fuel cap so you don't end up spilling fuel everywhere – there's no mess with a Honda. And the fuel cap lets you check the fuel level without you needing to remove it – so you save time, too.
Keep on running
With running times of between eight and 12 hours they become reliable companions that are ready for work any day of the week. Once they're up and running they'll cope with any demand you make of them, reacting to any fluctuations in load.
This is a useful function that prevents damage to your engine by automatically shutting the unit down if oil drops below a safe operating level.
Enhanced anti-vibration system
Honda's 45° inclined rubber engine mounts give superior vibration damping compared to industry-standard straight rubber mounts.
OHV 4-stroke engine
Powerful and efficient with trusted reliability – it must be a Honda. You'll get easy starting in all conditions, with automatic decompression to reduce the pull force required.
| | |
| --- | --- |
| Generator | |
| Output technology | i-AVR |
| Type | Single phase |
| Maximum output (W) | 5500 |
| Rated output (W) | 5000 |
| Rated voltage (V) | 230 |
| Rated frequency (Hz) | 50 |
| Rated current (A) | 21.7 |
| Engine | |
| Engine model | i-GX390 |
| Engine type | 4-stroke, OHV, 1 cylinder |
| Displacement (cm³) | 389 |
| Bore × stroke (mm) | 88 x 64 |
| Engine speed (rpm) | 3000 |
| Cooling system | Forced air |
| Ignition system | Transistor |
| Oil capacity (L) | 1.1 |
| Fuel tank capacity (L) | 23.5 |
| Operating time at rated | 8h |
| Starter system | Recoil and electric start |
| Sound pressure level at workstation (dB(A)) | 77 |
| Guaranteed sound power level (dB(A)) | 96 |
| Dimensions | |
| Length (mm) | Handle down: 725 Handle up: 1,047.5 |
| Width (mm) | 706 |
| Height (mm) | 719 |
| Dry weight (kg) | 108.8 |
Unrivalled Warranty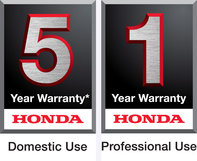 Honda's products are built better to last longer. That's why you are offered a rock-solid warranty for domestic and professional use on our core range products, covering both parts and labour.
The warranty also maintains the same value throughout the warranty period – meaning the last day of cover is exactly the same as the first.
*Subject to domestic use and following the service schedule
Want to see more?
See more from Honda's range of lawnmowers here.
Get more information from their brochure.
Please submit your enquiry and a member of the team will get back to you.