Honda EU22i Inverter Generator
Power on the move with Honda's EU22i generator. With a bigger GXR120 engine your electricity can follow wherever you go.
Due to their quiet nature you can use these handy generators anywhere. Ideal for caravanning and camping, it is able to provide clean, reliable electricity in the most extreme locations. Honda have built handy generators out of light materials such as magnesium, so they're easy to transport meaning you don't need to waste your own energy carrying them.
Key Features:
Oil alert™ – This is a useful function that prevents damage to your engine by automatically shutting the unit down if oil drops below a safe operating level.
DC output – DC Output gives you up to 12A for battery charging. (Please note, an optional cable is required).
Lightweight – Not only are Honda's generators easy to use, they're easy to transport and store, too. Because they're lightweight, they're easy to move around, whatever job you're doing.
Low noise – It's so quiet you'll hardly notice it's there. The noise-reducing muffler, casing and acoustic panelling greatly reduce the machine's operational noise.
Eco-throttle™ – This is a smart Honda technology that automatically adjusts the engine speed to precisely match the load. This saves fuel, extends engine life and contributes to quieter operation.
Parallel operation – Using Honda Genuine Parallel operation cables, you can link two EU10i, two EU20i, two EU30i, two EU30is, or two EU26i generators together to double your output. Note: you can only parallel link two identical units.
OHV 4-stroke engine – Powerful and efficient with trusted reliability – it must be a Honda. You'll get easy starting in all conditions, with automatic decompression to reduce the pull force required.
Lightweight and portable – Your Honda Water pump is super-compact and lightweight. And with its integral carry handle you can transport and store it with ease.
HONDA EU22I INVERTER GENERATOR
Compact and quiet, with the ability to power even the most sensitive electronic equipment, the Honda EU22i Inverter Generator is trusted by professional and private users throughout the world
With this model Honda have added a new "Fuel Valve Shutoff Position" which keeps the engine running without adding more petrol which allows you to burn off fuel in the carburettor. This ultimaely means that the carburettor won't get damaged by stale fuel.
As well as a new front cover design and side logo, Honda have also added extra ventilation holes and a new long wear material and guard placed around the pull cord.
With its unique Inverter technology you are guaranteed smooth, uninterrupted electricity wherever you may be, so you're safe to plug in your laptop, or any other sensitive electronic equipment and be confident it won't get fried.
And just so you are extra confident in your purchase this generator is also Euro 5 compliant - an emissions standard which came ino force January 2017.
Take your electricity with you
Honda was first to develop generators with the ability to power sensitive electronics. Honda's inverter series can produce 1,000 W to 7,000 W of portable power, enough to run anything from a laptop to a cottage.
Easy transport and storage
Ergonomic design combined with light materials, like magnesium, enable power to be available in the remotest places.
High quality electricity
Generators from Inverter series supply the same high quality electricity as outlets from your home. This quality is critical for powering sensitive electronic devices such as laptops, TVs and Cameras.
Super quiet
These inverter generators have specially designed acoustically insulated casings and an advanced exhaust muffler system, which drastically reduces noise.
Always start with ease
The recoil starter mechanism is light and smooth, and features automatic decompression for easy starts every time. To make start even smoother, EU30is and EU70is are fitted with electric start.
Unique Honda Eco-Throttle
All Inverter series units are fitted with Eco-Throttle technology, which adjust the engine speed - whether under heady load or light use. This saves fuel, extend engine life and give quieter operation.
Double your power
All the EU generators have parallel operation capability. Using Honda genuine parallel cables, two identical generators can be linked together to double the available power.
Outstanding reliability
Honda's Honda 4-stroke engines are remarkably fuel efficient and reliable, which means fewer fill-ups and reduced maintenance costs. Oil-Alert™ Technology will automatically switch off the ignition if the oil drops below a safe level.
No Boundaries
EU10i, EU22i & EU30is - Great things come in small packages.
A Honda Portable generator may be small but it's packed with features and innovations that will provide you with clean, friendly power to run sensitive electronic equipment in the great outdoors. A combination of lightweight materials and design, and an ergonomic handle make this generator easy to lift and carry.
Sit comfortably
Honda generators are quieter because they have acoustically insulated casings and a unique exhaust muffler system that keeps engine noise right down. This can make all the difference when you're wanting to enjoy some quiet time out in the country.
| | |
| --- | --- |
| Generator | |
| Output technology | Inverter |
| Type | Single phase |
| Maximum output (W) | 2200 |
| Rated output (W) | 1800 |
| Rated voltage (V) | 230 |
| Rated frequency (Hz) | 50 |
| Rated current (A) | 7.8 |
| DC rated output | 12V / 8A |
| Engine | |
| Engine model | GXR120 |
| Engine type | 4-stroke, OHV, 1 cylinder |
| Displacement (cm³) | 98.5 |
| Bore × stroke (mm) | 56 x 40 |
| Engine speed (rpm) | 5000 max |
| Cooling system | Forced air |
| Ignition system | Transistor |
| Oil capacity (L) | 0.4 |
Unrivalled Warranty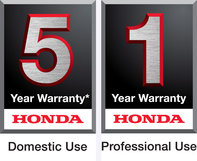 Honda's products are built better to last longer. That's why you are offered a rock-solid warranty for domestic and professional use on Honda's core range products, covering both parts and labour.
The warranty also maintains the same value throughout the warranty period – meaning the last day of cover is exactly the same as the first.
*Subject to domestic use and following the service schedule
Want to see more?
See more from Honda's range of lawnmowers here.
Get more information from their brochure.