New for the 2020 season and equipped with a new Euro 5 compliant engine, this product is one of the latest generation Honda lawn tractor models.
Several new features have also been developed for the new lawn tractor range with enhanced convenience and comfort in mind. The latest innovations include a full colour LCD display, a Speed Hold System and USB charging so choose your model based on your requirements.
Product Overview:
Cutter Deck Size: 102cm
Garden Size: Very Large. Suitable for lawns up to 6,000m² (1.5 acres)
Transmission: Variable Hydrostatic Drive – This lawnmower's speed is adjusted by pedal control
Mulching: Versamow Selective – You can chose whether you want to collect the grass cuttings into the bag or finely shred them onto the lawn
Grass Bag Capacity: 300L
Grass Bag Dumping: Manual – Dispose of grass clippings by lifting a lever
Soft Grip Steering and Colour LDC Display: Yes
Speed Hold: Yes – You are able hold your speed at 4 intervals (2/3/5/6km/h)
USB Charging and Device Holder: Yes
Out of stock
Email when stock available
HONDA HF 2417 HB
The Ultimate Mowing Machine
The new standard for lawn tractors has been set with the redesigned Honda HF 2417 HB. Now with advanced new engines, they're smooth, comfortable and easy to drive. Beautifully finished, these great looking machines are built to give you a great looking lawn.
Lawn Cruisers
Performance that's so enjoyable you won't want to stop.
Honda go the extra mile because they know that cutting your lawn is not a job, it's a passion. Their lawn tractors are built tough, with durability and strength in mind. Combined with hydrostatic drive transmissions for smooth and precise control – you and your garden are in for a real treat.
Hands on
Comfort is close to hand with the new ergonomically designed steering wheel. It also features a steering knob, so you can swiftly turn the steering wheel to negotiate and manoeuvre close to trees and bushes.
Stay charged
Does your mobile need a top up? No problem when you're working with a Honda lawn tractor. Simply plug it in and place your device in the convenient holder and charge up as you go.
Luxury seating
Extra care and attention to detail has gone into creating and shaping our most comfortable seat yet. The material is resilient as well as soft to the touch and this new design features foldable armrests that increase comfort levels even further.
A safe pocket
Convenience is key for the new range of Honda lawn tractors. This helpful and handy little feature is positioned to keep your mobile phone safely close to hand; no more of it, unknowingly, slipping out of your pocket as you as you cut the lawn.
Flowing performance
Optiflow® is unique airflow system created by Honda providing superior collecting performance – no more clogging up the collection chute. There's also Versamow®, a selective mulching feature. That allows you to mulch as you mow, helping you create a natural fertiliser for a healthier lawn.
Lightening the load
The lawn tractor has an electronically operated collection bag and automatically releases the grass cuttings in one go. There's no need to move from the comfort of your seat, just push a button and empty the bag. *Only available on HF2417HTE and 2625HTE
Built tough
The anti-corrosive paint adds a smooth finish to the durable, steel cutter-deck for longer lasting good looks.
The Kings Of Performance And Comfort
Perfect for lawns over 2000 sqm.
They are without doubt the best garden machinery you can own. Cutting, mulching and collecting couldn't be easier and with a Honda warranty that's second to none, there's never been a better time to treat your lawn to the very best.
Optiflow™
A fan powered system under the cutter deck that improves air flow between the cutter deck and the high air flow grass bag. It significantly improves collecting performance of the lawnmower.
Synchronous blade cut
Both blades have an overlapping cutting area to create accurate mowing and avoid any uncut areas when turning.
| | |
| --- | --- |
| Function | |
| Blade brake clutch | Electromagnetic |
| Optiflow | Yes |
| Grass bag dumping | Manual |
| Positions and cutting | 7 |
| Noise value - sound power level (dB(A)) | 100 |
| Mulching | Optional |
| Rear deflector | Optional |
| Tow hitch | Optional |
| Dimensions | |
| Length (mm) | 2440 |
| Width (mm) | 1060 |
| Height (mm) | 1230 |
| Dry weight (kg) | 237 |
| Cutting | |
| Cutter deck size (cm) | 102 |
| Number of blades | 2 |
| Synchro or Asynchro | Synchro |
| height adjustment (mm) | 29-90 |
| Grass bag capacity (Litres) | 300 |
| Engine | |
| Engine | 4-stroke OHC V-twin |
| Engine displacement (cc) | 530 |
| Engine model | GCV530 |
| Engine Rated Power (kW/rpm) | 9.4/2,800 |
| Fuel tank capacity (Litres) | 5.4 |
| Engine oil capacity (Litres) | 1.3 |
| Transmission type | Variable: Hydrostatic |
| Driving speed (km/h) | Progressive 0 to 8.2 |
| Tyres | |
| Front tyres (diameter x width - rim) (inches) | 15 x 6.00 - 6 |
| Rear tyres (diameter x width - rim) (inches) | 18 x 8.50 - 8 |
| Turning radius (m) | 1.8 |
Unrivalled Warranty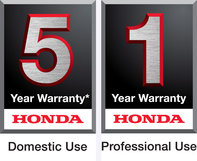 Honda's products are built better to last longer. That's why you are offered a rock-solid warranty for domestic and professional use on Honda's core range products, covering both parts and labour. The warranty also maintains the same value throughout the warranty period – meaning the last day of cover is exactly the same as the first. *Subject to domestic use and following the service schedule
Want to see more?
See more from Honda's range of lawnmowers 
here
. Get more information from their 
brochure
.