Honda HHH25S 75E Hedgetrimmer
Perfect cutting finish.
Honda's hedgetrimmers allow you to work for longer with minimal vibration.
These hedgetrimmers are designed to make accurate trimming in gardens and parks. The ergonomic comfortable controls and adjustable handle make it a joy to use. No matter how big the job, Honda's hedgetrimmers will get the job done with an unbeatable finish.
Product Overview:
Engine: 4-stroke OHC
Engine Displacement (cc):

25

Transmission type:

Centrifugal clutch

Blade type:

Single

Blade length (cm):

75

Additional Feature:

 Clipping collector guard
HONDA HHH25S 75E HEDGETRIMMER
The hand held Honda HHH25S 75E Hedgetrimmer has the benefit of the unrivalled Honda GX25 engine, to make light work of the numerous jobs it can do in your garden.
The First In The World
They're the number one for low noise and low emissions too.
When the first ever 4-stroke hedgetrimmer was made by Honda we didn't have to shout about it. From the moment you start one of Honda's hedgetrimmers you'll know why because it's so quiet. Pick one up and you'll feel a difference too. They're low vibration, ergonomic, work mates for tending all types of hedge. No matter how over-grown or rough, they'll soon trim a ragged hedge back into shape.
Staying sharp
Not only do they keep your hedge in good shape, but with auto-sharpening blades, the teeth stay in good shape too. And, with an anti- snapping blade protector as standard, they are guaranteed to last even longer.
Easy starter
This Honda engine has a mechanical decompression system, which makes the initial starting stroke less of an effort. Combined with a super-light flywheel the starter rope pull weight is only 7.2kg.
Easy handling
The handles and controls have been perfectly positioned for maximum comfort in use. You can work with it for much longer than you think and both HRH 25D models have 180º handle adjustment for even greater flexibility.
Good Vibes
The best thing about these hedgetrimmers is they protect and insulate you from any harmful vibrations...and that's got to be good.
Ever heard of Hand Arm Vibration Syndrome or HAVS?
If it doesn't sound good to you, then you'd be right. Sometimes known as 'white finger' it's a debilitating condition that can develop from using high vibration hand-tools.
Honda's unique anti-vibration clutch incorporates a vibration damping system that has not only been proven to be successful and reduce the risks in computer simulation, but in long-term practical tests too.
The centrifugal clutch and how it works
When the rpm reaches a certain level, the outward centrifugal force from the engine's drive shaft will engage with the outer output shaft and deliver a smooth transition of power to the cutting blades.
When the revs decrease, the springs will retract and disengage, nice and smooth. And, with an engine that prizes itself on low noise levels, it's music to your ears too.
| | |
| --- | --- |
| Engine | |
| Engine | 4-stroke OHC |
| Engine Displacement (cc) | 25 |
| Engine Model | GX25T |
| Engine net power (kW/rpm) | 0.72/7,000 |
| Fuel tank capacity (Litres) | 0.58 |
| Engine oil capacity (Litres) | 0.08 |
| Transmission | Centrifugal clutch |
| Blade | |
| Blade Type | Single |
| Blade Length (mm) | 720 |
| Blade Spacing (mm) | 36 |
| Dimensions | |
| Noise Value - sound power level (dB(A)) | 104 |
| Dimensions (L x W x H) (mm) | 1,125 x 310 x 259 |
| Dry Weight (kg) | 5.8 |
| Features | |
| Additional Features | Clipping collector guard |
Unrivalled Warranty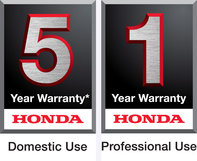 Honda's products are built better to last longer. That's why you are offered a rock-solid warranty for domestic and professional use on Honda's core range products, covering both parts and labour.
The warranty also maintains the same value throughout the warranty period – meaning the last day of cover is exactly the same as the first.
*Subject to domestic use and following the service schedule
Want to see more?
See more from Honda's range of lawnmowers here.
Get more information from their brochure.