Ideal for work on small to medium plots.
This range of tillers offers great cultivation performance and are easy to store.
Honda's mini range breaks up tough soil and ensures it is in the best condition. These tillers work equally as well at clearing weeds from between rows of plants to ensure your plots are at their best.
Product Overview:
Max tilling width (mm): 450
Max tilling depth (mm):

260

Wheels:

Rear transport

Side Discs:

Yes

Foldable Handle:

Yes

Height Adjustment Handle:

Not available

Swing Handle:

Not available

Counter-rotating tines:

 Not available
Email when stock available
HONDA FG 205 TILLER
Mini But Mighty
Small but perfectly formed - what these tools lack in size they certainly make up for in effectiveness.
Mini tillers are ideal for preparing modest flowerbeds and vegetable patches for seeding. With special features out of the box, and conveniently portable in size, they're ready for the little-big garden jobs.
Small Jobs, Big Results
Using a tiller is quicker and more effective than a spade. It also adds a certain finesse to a normally messy job.
Honda's Mini tillers help break up tough, compacted earth, and make sure it's in prime condition for planting. Best used in smaller gardens, these capable Mini tillers have a tough 4-stroke engine that does all the hard work. Not only great at cultivating soil, they're also perfect for clearing weeds from in between rows of plants – making flowerbeds look fluffy enough to sleep on.
Foldable handle
Designed with a convenient folding handle, they fold away neatly for simple storage and transport.
Transport wheel
For extra manoeuvrability, the transport wheel helps you easily move the tiller between storage and work areas.
Height-adjustable handles
The telescopic adjustment makes selecting the correct handle-height easy, so the machine is comfy for anyone to use, however tall you are.
Swing handle
With a reassuring safety release feature, the handle can be adjusted to swing left or right, so you avoid compressing cultivated soil with your footsteps.
A Tiller That Cares
Specialist features that tend to your soil.
Your crop is the result of your hard graft – it's a labour of love. Honda's Mini tillers take some of that work off your hands, and they're sure you won't mind. For example, the Mini tiller's special side discs protect crops and plants from flying debris or impact from the tines – making sure you don't undo all your good work.
Solid handling
Honda's Mini tillers also have a well-balanced low centre of gravity, and this makes them much easier to control. They're also slightly heavier than Honda's competitors' – Honda actually built them that way. It's so they go deep enough into the soil to give you the result you need.
The Famous 4-Stroke
It's the beating heart of all Honda tillers.
With years of experience and research building engines, Honda have designed a nimble 4-stroke motor that sits at the heart of all of Honda's tillers. It delivers solid, reliable power with lower and cleaner emissions – just like you'll find in Honda cars and motorcycles.
They keep on going
Getting through compacted soil isn't easy but Honda's tiller engines are up to the challenge. They push out high torque at low rpm – making sure you can drive through even the toughest of earth.
Extend Your Tiller's Talents
It's more than just a tiller.
If you're looking to get other jobs around the garden done, then additional attachments for Honda's Mini tillers mean you can. Take the de-thatcher attachment for example – it rids your turf of moss, dead grass and thatch, which can stop your lawn from growing properly.
Ridge the gap
You can also attach the ridger. It heaps up loose soil against young plants to help them grow. Conveniently, it also creates deep furrows in the soil that act as a drainage system. Until crops can swim, it's the next best thing…
| | |
| --- | --- |
| Function | |
| Max tilling width (mm) | 450 |
| Max tilling depth (mm) | 260 |
| Forward speeds | 1 |
| Forward tool rotation speed (rpm) | 135 rpm |
| Dimensions | |
| Dimension (L x W x H) (mm) | 1,155 x 510 x 1,035 |
| Dry weight (kg) | 24 |
| ACC | |
| Rotors/tines supplied | 4 x 4 tooth digging tines |
| Wheels | Rear Transport |
| Side discs | Yes |
| De-thatcher / scarifier | Optional |
| Engine | |
| Engine | 4-stroke OHC |
| Engine model | GXV50 |
| Engine displacement (cc) | 49 |
| Engine net power (kW/rpm) | 1.3/4,800 |
| Fuel tank capacity (Litres) | 0.35 |
| Engine oil capacity (Litres) | 0.3 |
| Starter | Recoil |
| Drive clutch | Automatic - centrifugal |
| Transmission | Worm gear |
| Sound pressure at operators ears (dB(A)) | 79.5 |
| Guaranteed sound power level (dB(A)) | 93 |
| Vibration (m/sec²) | 10 |
| Handle | |
| Foldable handle | Yes |
Unrivalled Warranty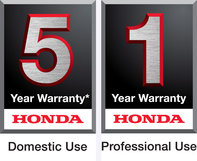 Honda's products are built better to last longer. That's why you are offered a rock-solid warranty for domestic and professional use on Honda's core range products, covering both parts and labour.
The warranty also maintains the same value throughout the warranty period – meaning the last day of cover is exactly the same as the first.
*Subject to domestic use and following the service schedule.
Want to see more?
See more from Honda's range of lawnmowers here.
Get more information from their brochure.