Honda HRG 466 XB Cordless Lawnmower
This versatile, self-propelled, lawnmower includes a 46cm cutter deck and Versamow® Selective mulching.
Product Overview:
Cutter Deck Size: 18″ / 46cm
Garden Size: For medium gardens up to 450m2
Deck Type: Pressed Steel – This deck type is lightweight for easy manoeurability whilst still being hard-wearing and resistant to corrosion and UV rays
Transmission: Single Speed – This lawnmower will self propell itself at one speed
Rear Roller: Not available
Rotostop: Not available
Mulching: Versamow Selective – You can choose whether you want to collect the grass cuttings into the bag or finely shred them onto the lawn
Powertrain: Powered by Honda's Universal Battery System
HONDA HRG 466 XB
Fitted with a brushless EC Motor and running off a Thermo-Smart battery, this Honda HRG 466 XB is supplied with a high continuous current and therefore provides a stable RPM in all conditions. So ... don't be mislead into thinking Honda's DC lawnmower won't provide you with the power you need. Honda's first cordless lawnmower range absolutely rivals their petrol mowers. These lawnmowers are built with a durable steel frame, fully weatherproof  and what's more, low noise.
Versamow™ selective mulching
With a single lever, Honda's Versamow™ system will either collect the grass cuttings into the bag or finely shred and blow them down into the lawn to create a natural fertiliser.
Cordless
Efficient performance and sustained power thanks to Honda's latest combination of battery and motor technology, so it can keep going as long as you can.
Universal Battery System
With casings that can withstand real-life tough treatment, all batteries can be changed quickly and used to power Honda's new cordless range.
We would recommend the 6Ah or the 9Ah battery* for this product. *Battery and Charger not included
Specifications
| | |
| --- | --- |
| Cutter deck size (cm) | 46 |
| Cutter deck material | Steel |
| Power (KW) | 1.8 |
| RPM | 2800 |
| Transmission | Single Speed |
| Driving Speed (m/s) | 0.9 |
| Weatherproof | IP54 |
| Roto-stop | - |
| Mulching (Versamow-selective/variable) | Selective |
| Positions & cutting height adjustment(mm) | 6 (20-74) |
| Height adjustment points | 2 |
| Rear roller | - |
| Grass bag capacity (l) | 50 |
| Guaranteed sound level dB(a)* | 91 |
| Dry Weight (kg) | 27.5 |
| Dimensions (L x W x H (mm)) | 1430 x 497 x 980 |
Unrivalled Warranty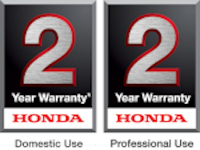 Honda's products are built better to last longer. That's why you are offered a rock-solid warranty for domestic and professional use on Honda's core range products, covering both parts and labour. The warranty also maintains the same value throughout the warranty period – meaning the last day of cover is exactly the same as the first. *Subject to domestic use and following the service schedule
Want to see more?
See more from Honda's range of lawnmowers
here.
Get more information from their
brochure.