Unparalleled performance for extra large plots.
Engineered for maximum performance and efficiency which will allow effortless break up of soil without bucking.
Honda's rotary tiller range provides easy garden maintenance for the toughest jobs. You will find they are incredibly easy to handle and their unique counter rotating tines allow any difficult job to be a breeze.
Product Overview:
Max tilling width (mm): 550
Max tilling depth (mm):

200

Wheels:

Wheels and tyres

Side Discs:

Unavailable

Foldable Handle:

Not available

Height Adjustment Handle:

Yes

Swing Handle:

Not available

Counter-rotating tines:

 Yes
Out of stock
Email when stock available
HONDA FR 750 TILLER
Tilling You Can Count On
Reliable tillers that are effortless to handle.
Best suited for larger plots of land, these Rotary tillers are durable and easy to handle, and can cut through tough, compacted soil with ease.
Easy Does It
Rotary tillers are about making hard jobs easy – they certainly make light work of big plots of compacted earth.
Honda's Rotary tillers are strong and dependable, and they come in a range of engine sizes to ensure there's one right for the job. They're so easy to handle and their special counter-rotating tines enable you to breeze through the soil.
It's a doddle
Guiding the Rotary tiller over your land feels more like a stroll in the park. That's because the powerful 4-stroke engine has multiple gears and pushes out just the right amount of performance you need – whatever the conditions
The Famous 4-Stroke
It's the beating heart of all Honda tillers.
With years of experience and research building engines, Honda have designed a nimble 4-stroke motor that sits at the heart of all Honda tillers. It delivers solid, reliable power with lower and cleaner emissions – just like you'll find in Honda cars and motorcycles.
Green economy
The 4-stroke petrol engines avoid the messy business of mixing oil and fuel. Neither do they need warm up time to reach their peak performance. This means there's longer use before filling up, and that's easier on your wallet.
| | |
| --- | --- |
| Function | |
| Max tilling width (mm) | 510 |
| Max tilling depth (mm) | 326 |
| Forward speeds | 2 |
| Reverse speeds | 1 |
| Forward tool rotation speed (rpm) | 0.35 - 1.22 m/s |
| Reverse tool rotation speed (rpm) | 0.3 m/s |
| PTO rotation speed (low/high) (rpm) | 238 |
| Dimensions | |
| Dimension (L x W x H) (mm) | 1,500 x 570 x 1,140 |
| Dry weight (kg) | 97 |
| ACC | |
| Rotors/tines supplied | Rear rotary tines |
| Counter rotating tines | Yes |
| Wheels | Wheels & Tyres |
| Engine | |
| Engine | 4-stroke OHC |
| Engine model | GX200 |
| Engine displacement (cc) | 196 |
| Engine net power (kW/rpm) | 4.1/3,600 |
| Fuel tank capacity (Litres) | 2.5 |
| Engine oil capacity (Litres) | 0.6 |
| Starter | Recoil |
| Drive clutch | Manual - expanding shoe |
| Transmission | Variable sliding |
| Final transmission | Cobstant mesh with differential |
| Differential / side clutch | Yes |
| Sound pressure at operators ears (dB(A)) | 79 |
| Vibration (m/sec²) | 3.5 |
| Handle | |
| Height adjustable handle | Yes |
Unrivalled Warranty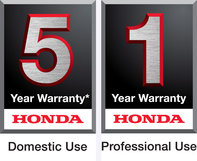 Honda's products are built better to last longer. That's why you are offered a rock-solid warranty for domestic and professional use on Honda's core range products, covering both parts and labour.
The warranty also maintains the same value throughout the warranty period – meaning the last day of cover is exactly the same as the first.
*Subject to domestic use and following the service schedule.
Want to see more?
See more from Honda's range of lawnmowers here.
Get more information from their brochure.