Being a self propelled mower, the Honda HRD 536 HX eliminates the hard, strenuous efforts of having to hand push your mower.
Product Overview:
Honda pro 4-stroke GXV engine
Roto-stop® (Blade Brake Clutch)
Heavy duty brace supports for handlebars
Self propelled with hydrostatic drive
53 cm (21″) cutting width
Aluminium cutter deck
83 litre grass bag
Out of stock
Email when stock available
HONDA HRD 536 HX
The new Honda HRD 536 HX is the 4 wheeled version of the ever popular HRD 536 QX roller lawn mower. It is powered by a very reliable OHV 4-stroke Honda GXV160 engine, that provides plenty of power suitable for the commercial user as well as the home-owner looking for a little something extra.
With a large 53 cm cutting deck it is the perfect mower for larger lawns. With an integrated rear roller, it creates that classic striped effect without the need of having to purchase a separate roller.
The HRD 536 HX features Honda's unique Roto-stop® safety feature, where the engine is left running whilst the blades come to a halt. This enables the user to empty the grass bag, or move obstacles which are in the way with complete peace of mind.
As well as coming with a large 83 litre grass bag.
With a durable aluminium deck, the HRD 536 HX lawnmower is lightweight and very strong, providing a very lengthy service life.
With 5 heights of cut between 14-52 mm, you are able to choose your ideal grass finish. The handles are easily folded, making it much easier to store your lawnmower. The wheels are a large 8 inches, with a new tread design and a much softer compound material for rock-steady operation.
Any garden. Anywhere.
HRD lawnmowers feature Roto-Stop® technology, so you can stop the blade without stopping the engine which is ideal when you have to go over a gravel drive or path. With other standard features like the high-airflow bag and double arm reinforcement (where the handle is attached to the cutter deck) it's no wonder they're called the HRD Professionals.
Cast in aluminium
With any build, the foundation has to be solid.
This HRD cutter-deck is made from cast-aluminium. It's visually striking and unbelievably resilient to hard knocks that would put a dent in anything less robust. It will also resist corrosion because the finish is not just ordinary paint, it's an ecological powder coating that will provide lasting protection for a very long time indeed. All Honda HRD mowers have a quality powder-coated finish on the cutter-deck and double reinforced handle attachments for added strength.
Doubling up
The handles have a reinforced steel double arm at the point where they are attached to the cutter deck to add strength and rigidity. This means they will not flex or bend in use or during transportation, and can be easily folded forward and down to save space when you store it.
Keep on running
All mowers have Honda's Roto-stop® feature – technically known as a blade brake clutch.
To you though, it simply means you can stop the blades when you want and empty the grass bag without having to continually stop and restart the engine. This on-off feature also makes it safer and it stops blade damage when you're moving across a driveway or gravel path.
A safe blade design
They all have a wide 53cm cutter blade, which, like all Honda mower blades, is designed to twist and not break if it hits anything solid while mowing. This eliminates the risk of any engine or transmission damage if you're unfortunate enough to hit something hard and hidden while cutting your way through long and rough grass.
Hidden obstacles in the long grass can give you more than just a shock. A Honda blade absorbs the force by twisting, preventing further damage to the engine and transmission.
Enduring
The world-renowned Honda 4-stroke engine.
The HRD has an ultra-reliable 163cc Over-Head Valve 'Pro' spec 4-stroke engine. This is the best engine Honda provide for mowers and it is absolutely rock-solid dependable.
For really hard work, the 'Pro' spec engine features a large capacity air filter, a durable cast iron cylinder sleeve and crankshaft which runs in specially adapted bearings for longer engine life.
Easy starter
This engine is low maintenance, compact and easy to start because of a super-light flywheel. Combined with a new soft-grip recoil starter handle, starting won't feel like an unplanned gym workout! The low comfortable tone of a belt driven Over-Head Cam, 4-stroke engine will be appreciated mostly by those who are close by.
Light and easy
With free-rolling ball bearings on the wheels, they feel light and incredibly manoeuvrable, so your arms won't feel like they've been through a workout when you've finished.
You have a choice of another drive too; with a 3-speed transmission, so you can manually change your pace if you prefer with a smooth transition between gears. Just the job if you feel like taking things a bit slower at the weekend.
It's in the bag
It wouldn't be a Honda HRD Professional without the special high-airflow collection bag.
Honda have created a special material for their collection bags with a massive 80 or 83 litre capacity. Made with an ultra-fine mesh, they maximise grass collection without affecting the airflow. This means you can fill the bag right up – spending more time mowing and less time emptying. It even stops most of the larger dust particles from getting through too.
| | |
| --- | --- |
| Brand | Honda |
| Power Source | Petrol |
| Power Details | OHV 4-stroke Honda GXV160 163 cc |
| Engine make | Honda |
| Transmission | Variable hydrostatic |
| Starting Method | Recoil |
| Design | Wheeled |
| Cutter Deck | Aluminium |
| Cutting Width | 53 cm |
| Cutting Heights | 14 - 52 mm |
| Number Cutting Heights | 5 |
| Propulsion | Self-Propelled |
| Collector | 80 litres |
| Noise Value - Sound Power Level dB(A) | 98 |
| Weight | tbc |
| Dimensions (L x W x H) | tbc |
| Warranty | 7 years domestic, 1 year commercial |
| Power Cable Length | No |
| Other Features | No |
Unrivalled Warranty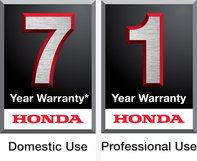 Honda's products are built better to last longer. That's why you are offered a rock-solid warranty for domestic and professional use on Honda's core range products, covering both parts and labour.
The warranty also maintains the same value throughout the warranty period – meaning the last day of cover is exactly the same as the first.
*Subject to domestic use and following the service schedule
Want to see more?
See more from Honda's range of lawnmowers here.
Get more information from their brochure.