SUPERIOR POWER
Stage V compliant direct injection CRS V2607 Kubota engine with improved DPF for high fuel efficiency, low emissions and reduced maintenance.
OPTIMISED HYDRAULICS
A "Delta" lift arm design allows the operator to easily see the hydraulic quick-coupler pins. Rerouted hydraulic piping improves visibility of the toe during heavy lifting and pallet fork operations.
OUTSTANDING VERSATILITY
The R070 offers a long reach of 3230mm and high clearance enables you to load trucks or trailers with ease, whilst the superior reach makes pallet fork operations faster and more efficient.
EXCELLENT PRODUCTIVITY
With lifting power of 30.1 Kn and a tipping load capacity of up to 3020kg, the RO70 is more than capable of taking most on-site tasks in its stride.
ALL-DAY COMFORT
Spacious, comfortable, air-conditioned cab with intuitive easy-to-use controls and superb all-round vision including LED work lights.
KUBOTA R070 FRONT LOADER
BUILT FOR COMFORT AND PERFORMANCE
The Kubtoa R070 front loader is a next-generation Stage V wheel loader that's built to get the job done quickly, efficiently and in comfort. It's long reach, excellent lifting power and simple controls make all types of material handling jobs easy.
| | | | |
| --- | --- | --- | --- |
| Model | Machine Weight (kg) | Max width (mm) | Engine output (kw) |
| With Bucket | 4445 | 1750 | 37.4 |
| With Pallet Fork | 4445 | 1680 | 37.4 |
ENGINE
The Kubota R070 front loader is powered by Kubota's V2607 direct-injection engine, delivering 50.8 PS (37.4kW).
The Stage V-compliant engine meets all current engine emission regulations.
The wide opening rear engine bonnet enable easy access for maintenance or inspection of the dual element air cleaner, battery, diesel particulate filter (DPF) muffler, washer tank, fuel filter, water separator, and reserve tank.
The fuel refill (right side) and battery (left side) are easy to access.
Extended service intervals for both the regeneration filter and ash cleaner reduce maintenance intervals.
HYDRAULICS
Kubota's arm tilt/parallel movement structure keeps the load upright and steady when transporting a fully loaded bucket or while moving around pallets.
The R070 has a lifting force of up to 1880 kgf.
VERSATILITY
Choices include a pallet fork or a standard or extra-width general purpose or 4-in-1 bucket.
PERFORMANCE
All major loader functions are on a single lever that is easy to operate with just one hand.
A 2-step speed control switch lets you quickly change speeds.
An anti-slip differential lock switch engages both front and rear wheels for positive, slip free traction.
The maximum lifting height is 3.995m or - with the pallet fork attachment – up to 3.03m.
COMFORT
Spacious, fully enclosed glass cabin for all-round visibility and operator comfort.
The fully opening window ensures good ventilation and communication with workers outside.
The digital instrument panel provides at-a-glance information of the machine's functions and conditions. A full set of diagnostic indicators automatically monitor critical machine conditions.
Lots of leg room to make long working days easier.
A full-size, full-suspension adjustable seat enhances operator comfort. The padded seat can be moved forward or back for optimum positioning.
Adjustable right wrist rest to reduce fatigue by minimising arm movement and enabling easier operation of the single, multi-function control lever.
SAFETY
Bright LED work lights provide plenty of illumination for low visibility or night time working conditions.
Kubota Anti-theft System fitted as standard. Only programmed keys will enable the engine to start. Attempting to start with an unprogrammed key will activate the alarm. An alert reminds the operator to remove the key after operation. An LED warns potential thieves that the system is activated.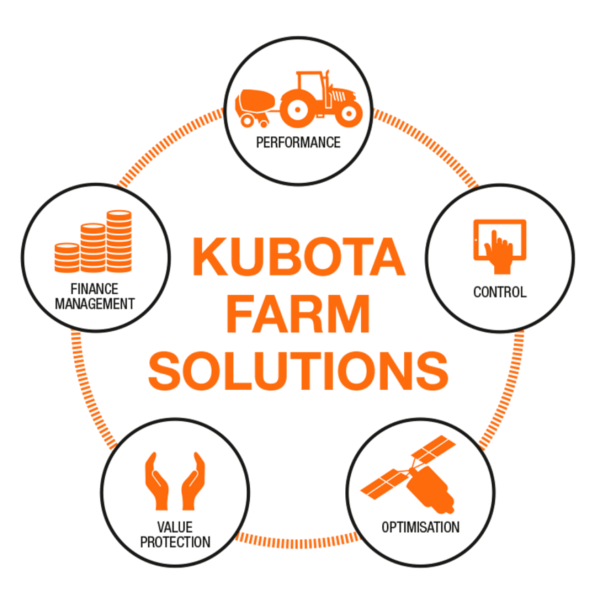 Want to see more?
Please submit your enquiry and a member of the team will get back to you.