Perfect for light work on small plots.
Cultivating the soil on a small plot couldn't be easier. This range may be lightweight but they are still unbelievably sturdy.
These tillers really do make light work of your land. They are easy to use, transport and store away – just perfect for lighter jobs.
Product Overview:
Max tilling width (mm): 230
Max tilling depth (mm):

203

Wheels:

Rear transport

Side Discs:

Not available

Foldable Handle:

Yes

Height Adjustment Handle:

Not available

Swing Handle:

Not available

Counter-rotating tines:

 Not available
HONDA FG 110 TILLER
Small Hard Workers
Honda FG 110 Tiller - Perfect for light garden tasks.
Turning over the soil in small vegetable plots and flowerbeds couldn't be easier. These strong lightweight tillers with folding handles are available with a wide range of attachments.
Tiny And Tough
Powered by a quiet 4-stroke engine these light, handy tillers will save time and make the usual back-aching work of turning over soil less of a pain.
It's ready to go. The only real effort is to pull the starter chord and you're away. Properly aired soil for planting is essential for growing healthier vegetables, plants and flowers. Micro tillers are not only good for doing the spadework. With three attachments available, you can lightly cultivate the soil with the aerator, neatly trim the grass borders with the edging tool and, for a healthier-looking lawn, fit a de-thatching device.
Easy to pick up
There's a well-positioned handle on the top that makes it easy to carry and lift the whole unit, so if you need to carry it over any distance it takes hardly any effort at all.
Tough tines
The tines, or rotor blades, are designed to cut and lift the soil like a mini plough. Four of them working together, are strong enough to turn over and loosen the soil creating the perfect texture for plants and vegetables.
Standard wheels
Honda's unique two-position transport wheels come as standard. The wheels adjust to move over smooth or rough terrain and when you're ready to start tilling, the wheels are easy to remove.
More Effective
Honda's Micro tillers are heavier than those of most of their competitors, but that's not necessarily a bad thing.
If a tiller is too light it will skip over the soil and become harder to control, not going deep enough to give you the result you need. Honda's tillers have the best weight-to-work ratio.
A cultivator and a tiller in one
Other brands of tiller can be too aggressive in soft soil, while traditional cultivators can sometimes have difficulty in breaking up new ground as effectively. But the Honda tillers can handle both tasks.
Keeping control of a tiller in tight places is not a problem with a Honda. Its compact shape gives you the ability to cultivate areas close to your borders and plants.
This efficient, easy-to-use garden tool with its fingertip controls, makes a Honda Micro tiller perfect for working in those tight and tricky spots.
Excellent Little Workers
Lawns, grass borders and edges have never looked so good.
Keeping your borders neat and tidy with the border edge attachment. It gives your garden that perfectly manicured look. This attachment is available with an easy to fit steadying wheel at the side, for greater stability and control. When you've finished, your neighbours will think you've had the professionals in.
Healthy grass and plants
Both Micro tillers have other optional attachments available to de-thatch your lawn and aerate the soil. The de-thatcher makes the usual time-consuming task of removing moss and any dead vegetation, swift and effortless. The aerator will loosen up the soil ready for planting out flowers and vegetables.
| | |
| --- | --- |
| Function | |
| Max tilling width (mm) | 230 |
| Max tilling depth (mm) | 203 |
| Forward speeds | 1 |
| Forward tool rotation speed (rpm) | 182 rpm |
| Dimensions | |
| Dimension (L x W x H) (mm) | 1,175 x 365 x 958 |
| Dry weight (kg) | 13 |
| ACC | |
| Rotors/tines supplied | 4 x 6 tooth hoeing tines |
| Wheels | Rear Transport |
| Border edger | Optional |
| De-thatcher / scarifier | Optional |
| Aerator | Optional |
| Engine | |
| Engine | 4-stroke OHC |
| Engine model | GX25T |
| Engine displacement (cc) | 25 |
Unrivalled Warranty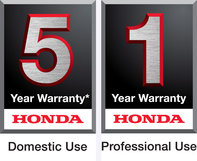 Honda's products are built better to last longer. That's why you are offered a rock-solid warranty for domestic and professional use on Honda's core range products, covering both parts and labour.
The warranty also maintains the same value throughout the warranty period – meaning the last day of cover is exactly the same as the first.
*Subject to domestic use and following the service schedule.
Want to see more?
See more from Honda's range of lawnmowers here.
Get more information from their brochure.