Kubota M4003 Series Tractor
Exceptionally powerful
Kubota's modern 4-cylinder engines provide high levels of power.
Smooth gear shifting
The fully synchronized transmission, with optional powershift enables smooth shifting.
Comfortable working environment
The Ultra Grand Cab II is extremely spacious and comfortable.
Particularly strong
The hydraulics provide full lifting power for all your work requirements.
Perfectly matched
The M4003 agricultural tractor and the LA1365 front loaders together provide maximum versatility and efficiency.
KUBOTA M4003 SERIES TRACTOR
THE PROFICIENT RELIABLE ALL-ROUNDER
The Kubota M4003 series tractor is the perfect all-rounder for farm work requirements. Thanks to reliable and proven technology, you can rely on the M4003 in all conditions.
MODEL VARIANTS
THE CHOICE IS YOURS
| | | | |
| --- | --- | --- | --- |
| Model | Range | Rated power (ECE R 120) | Displacement/ No of cylinders |
| M4-063 | ROPS | Cab | 66 hp/ 49 kW | 3,331 cm3 / 4 |
| M4-073 |  Cab | 74 hp/ 55 kW | 3,331 cm3 / 4 |
Engine
Kubota's 66 hp and 74 hp 4-cylinder engines are powerful, clean and quiet
The 3.3-litre V3307 series CR-T engines feature high-pressure fuel injection, to deliver maximum power and torque
Optimised performance and torque curves mean less noise and wear, as well as lower fuel consumption
With the constant speed controller, you can control the engine speed very precisely
With the engine speed memory, you can store speed settings for repetitive operations
Transmission
The Kubota M4003 series tractor gives you the choice between two optimally matched transmissions: 18F/18R or 36F/36R.
Smooth, comfortable shifting is guaranteed with all transmission variants.
With the new electro-hydraulic shuttle shift, you can select reverse with ease.
The 40 km/h transmission with Eco-Drive enables faster and quieter driving with lower fuel consumption.
The four-wheel drive can be simply switched on and off at the push of a button without stopping the tractor.
Hydraulics
The rear hydraulic lift on the M4003 allows even the heaviest of implements to be lifted very easily thanks to its 2,500 kg lifting force.
Two hydraulic SCD auxiliary hydraulic outlets (a third is optional) enables an easier operation of the implements.
The power take-off of the M4003 can also be turned on and off easily from a switch at the rear
Optional mechanical or electric rear hitch control increases the comfort
Cab
Enjoy the size and comfort of the extra wide and extremely spacious Ultra Grand Cab II
The controls are ergonomically arranged so that you can concentrate fully on the work at hand
You can see the fully raised front loader directly through the glass roof hatch
The sophisticated heating and air conditioning system in the cabin guarantees a comfortable working environment in all weather conditions
As an added option the M4003 is also available as a ROPS version with a roll bar
Precision Farming
Use the IsoMatch Tellus monitors to upgrade your M4003 to an ISOBUS tractor
Track everything you've done in the field, thoroughly and accurately
The part width section control and the area-specific application option offers additional cost savings opportunities
Front Loader
The M4003 and Kubota's LA1365 series front loaders together provide maximum versatility and efficiency
The front loader can quickly be mounted and dismounted without any tools
Optional hydraulic self-levelling of the front loader ensures a constant loader angle for safe and precise operation.
KUBOTA FARM SOLUTIONS SECTION
360° PERFORMANCE FOR 100% SUCCESS

PERFORMANCE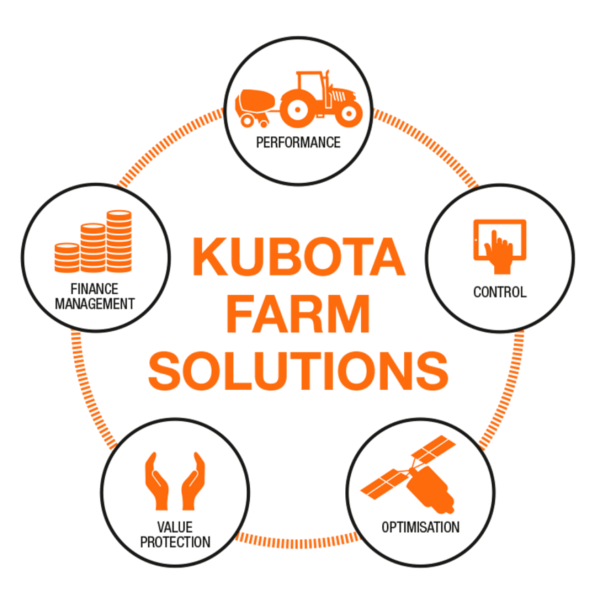 The Kubota M4003 convincingly offers unique manoeuvrability, outstanding versatility, complete comfort and maximum productivity. With this tractor you can take your work efficiency to a new level.

CONTROL
The optional IsoMatch Tellus monitors turn the M4003 into an ISOBUS tractor. This saves you time, resources and money.

OPTIMIZATION
With retrofit kits for precision farming, this ultra-modern technology can be used to ensure efficient and environmentally friendly cultivation of your land.

INVESTMENT PROTECTION
Kubota tractors offer proven quality and excellent performance. Supported by Kubota Care your investment will be protected in the long term. Kubota also provides a manufacturer's warranty for the M4003, which you can optionally extend to five years with the Kubota Care programme.

FINANCE MANAGEMENT
Thanks to its outstanding versatility, the M4003 will quickly provide a return on your investment. With Kubota Finance, offering bespoke/flexible finance options, you can invest in technology that will make an important contribution to your business.
Want to see more?
Agricultural Tractors By Kubota Offer Comfort With Utility
Designed with a life cycle of constant work in mind, few agricultural tractor ranges offer the level of durability that Kubota's does. Every Kubota tractor is made to the highest standards of production to ensure that the farm equipment will function as it should many years after it has been first put to work. Of course, this all begins at the design stage when Kubota's expert engineers get to work conceptualising utility tractors and other forms of agricultural machinery that will last. Indeed, agricultural tractors like Kubota's are not just there to be reliable. They are designed with agricultural needs in mind, in other words to help you to work more effectively and to improve yields year after year. Kubota's versatile and intelligent agricultural tractors instantly appeal because of their high performance even when they are working on different types of ground. Farmers who have used Kubota's agricultural equipment before constantly report that their tractors offer unbeatable value for money well into their life cycles. Each agricultural tractor is designed and manufactured using the most modern production techniques to reduce onward operational costs, to provide remarkable versatility in the field as well as two other key ingredients, maneuverability and agility.
Agricultural Tractors Which Aim to Deliver
There is lots of choice within the agricultural tractor range of machines but each of the models have certain things in common. And it does not just come down to the distinctive orange and black look of Kubota's tractors either! Firstly, the highly powered engines that are fitted into their tractor range are extremely respectful of the environment and designed to be as fuel efficient as possible given the workload these precisely engineered machines will need to cope with. Kubota ensure that they are able to meet all of the relevant emission standards, for example, no matter how strict they happen to be. With their farm equipment, farming becomes as hassle-free as possible! If you are concerned that environmental considerations mean that the sheer power of Kubota's agricultural machinery is diminished, then think again. The power output varies according to the particular model, of course. However, there is more than enough power to cope with even the most challenging of farm jobs. With the M 7001 model, for instance, power can go up to 170 hp with a 20 hp overpower when needed. This allows you to carry out all sorts of work safe in the knowledge that you will have enough power. Lastly, it is worth mentioning that the front tyres tractors are supplied with are particularly resistant to wear. They can withstand the physical constraints of soil in all sorts of states with ease.
The Comfort of a Kubota Tractor
Kubota offer tractors with cabins and those without them, too, so every type of customer is catered for. Either way, the the layout of the controls is convenient and designed with the driver in mind. Both the accessories and the dashboards of Kubota tractors allow for exceptional levels of comfort in all sorts of conditions. Operators who are inside a Kubota tractor cabin will feel it to be a luxurious working environment even if they are travelling over rough ground. What's more, Kubota's design engineers have thought about ease of use at every stage. This even comes down to the way other tools can be hitched up to their tractors with complete convenience. Features like fully opening bonnets, suspended pedals and hydrostatic steering mean that Kubota's agricultural tractor range really is a cut above the rest.